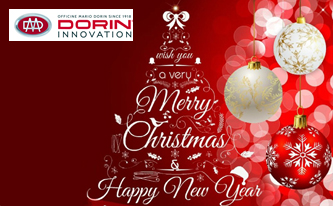 2019 has been a year of change for OMD, full of great innovations and characterized by new commercial offices and the increasing of its workforce.
Constantly present on the international market, Officine Mario Dorin has further expanded its offer, through the opening of the new sales office in America.
In June Omd announced , with great pleasure, the birth of Dorin USA, in Blissfiled, in the state of Michigan.
The inauguration of the American headquarters, a goal pursued for many years, confirms the continuous growth of the company on the international territory and strengthens its presence in the North American territory, enriching and enhancing the services offered, as well as responding more and more efficiently and promptly to the needs of customers.
In terms of organization, 2019 witnessed the entry of a new Technical Director.
From December 1st, Eng. Bulgarelli has been appointed Head of the R&D department, replacing the historic director, Mauro Dallai, who has retired with our best congratulations and thanks for the excellent work done and the long lasting collaboration.
At the end of this year we can say that 2019 has confirmed the quality of the work carried out by OMD over the last 100 years: the results and targets obtained are highly positive and become even more interesting if included in the international socio-economic context.
Ready to face the new challenges of 2020, we wish everyone a Merry Christmas and a happy New Year.