| | |
| --- | --- |
| | FEBRUARY 2016 |
A new low GWP refrigerant: R449A
Replacement for R404A and R507A
Following the new European directives on use of refrigerants, Dorin focused in the past months and still today is committed with its R&D department to study and evaluate performance tests of its compressors with several different alternative synthetic refrigerants.
Internally, aiming always at meeting 100% the customers needs, Dorin has based the development on the following proposal:

| | |
| --- | --- |
| Alternative | Actual utilized |
| R448A | R404A and R507A |
| R449A | R404A and R507A |
| R450A | R134a |
| R513A | R134a |
with a special eye for the moment towards R449A.
R449A gives a GWP far lower than 65% compared to the actual R404A and 507A, and being non flammable enters the A1 flammability class. This means that changing in a system from R404A to R449A there are no particular restrictions following the ATEX normative.
DORIN strongly suggest the use of POE oil verifying carefully the acidity of the same each semester.
Speaking about performances and efficiency of the system, Dorin underlines that when using R449A in existing systems, the temperature glide to be considered is around 5K since this has a sensitive impact on performances. In MT applications the refrigeration capacity is similar to the one with R404A and R507A but in BT applications the capacity could be slightly lower. Hence DORIN recommends to refer to the its Technical Department before such applications.
The new catalogue 1LTZ050_H_NR_1504 specific on performances and applications with R449A is now available on DORIN official web site (www.dorin.com).

DORIN CDB SERIES for subcritical CO2 applications with PSs100 bar/PS 150 bar
Based on long term experience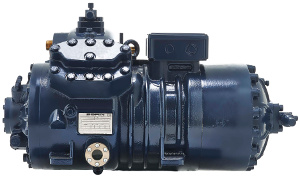 (20+ years of manufacturing, the pioneer globally in this field) on CO2 compressors and strong of almost 100 years of manufacturing compressors generally,
DORIN
designed a dedicated series of compressors to meet the specific requirements of those subcritical
CO2 applications where is required a high standstill pressure and condensing temperature.
CDB Series
combines the high energy efficiency and tested and reliable features of the CD Series with an increased pressure strength of up to 150 bar at high pressure side and
100 bar at low pressure side
in standstill mode.
Thus, in response to regional market developments, DORIN is able to provide reliable, efficient and safe compressors even for any kind of system, including cascade and booster (high PSs values required).
NxtHPG technical workshop

You are cordially invited by DORIN to the final workshop of the "NxtHPG" technical workshop which will take place on 16 March during the "Mostra Convegno" fair in Milan, Italy. DORIN has again committed itself in developing and in divulgation of natural refrigeration culture being one of the main participants to the 'Next Generation of Heat Pumps working with natural fluids (NxtHPG)' project since it started in December 2012. The main objectives are to develop a set of 5 prototype heat pumps as well as to break down some of the barriers affecting natural refrigerants technology and, in particular, to support the market uptake of hydrocarbon and CO2 heat pumps.

Among the sponsorships Dorin in 2016 will continue its commitment to the development and dissemination of alternative culture in the industry, sponsoring events about the latest news in terms of CO2, ammonia and hydrocarbons in refrigeration and air conditioning.




Atmosphere Asia

, Tokyo (JP), February 9-10, 2016

Atmosphere Europe

, Barcelona (ES), April 19-20, 2016

Atmosphere America

, Chicago (USA), June 16-17, 2016

Via Aretina, 388 Compiobbi (FI), Italy Tel: +39-055-62321.1 Fax: +39-055-62321.380
Pursuant to and for the purposes of the Legislative Decree no. 30 June 2003 n. 196 (Code regarding the protection of personal data), hereinafter 'Privacy Code', Dorin SpA informs that according to the above rules, your data will be treated confidentially and that such treatment will be based on principles of fairness, legality, transparency and protection of your privacy and your rights. Your personal data will be processed in accordance with the legal provisions of the aforementioned law and the privacy obligations therein. You may, at any time, update or delete them simply sending an e-mail to our address
dorin@dorin.com